And therefore I, Ally, am blatantly soliciting your vote :)
So over on awesome crafty message board
Craftster.org
they have a
monthly challenge
where you craft to a particular theme and then all the members can vote and you win a t-shirt or something (although the real point, of course, is the fame and fortune, wink wink). This month's theme was New Year's resolutions, and crafting something that would help you achieve them. My resolution was to practice more so I wanted something that would remind me at the end of a long hard day how much I love to dance, and that I should go practice.
So I made a Go Practice bum bag! (bum bag because I made it out of the bum of an old pair of jeans). I wanted one side to be an old pair of dance shoes I wore through, to remind me I really can work hard, and I wanted the other side to be some inspiring quotes. Here's the quotes side, in all it's fabric-painty glory:
The "Dance" quote is Baryshnikov, and the "Dream" quote is Steven Leacock and is one of my all time faves (spoken like a true dreamer, eh?
) Here's the shoe side, pre-assembly:
Here's a close up on the ghillie -- I attached them with a zig-zag stitch, just like the pieces of argyle fleece, and kept the original laces:
The lining I made from that argyle fleece -- I bought 4 yards of that stuff when it was on sale so look for another post with all the projects I intend to make from it! This is just the first of many, really.
Here's the lining pieces, pre-assembly: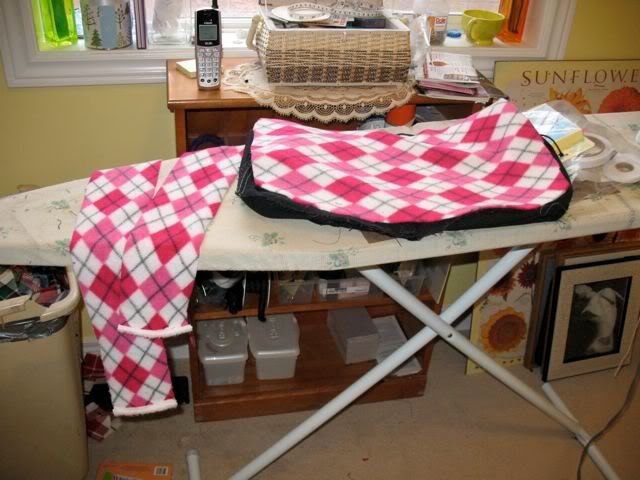 And sewn into the bag (no, I did not try to match the pattern.. who am I? Prada?):
The final touch?? A rhinestone zipper of course!! Plus the D-rings have rhinestones too although I don't think you can tell from this picture. The strap is black cotton webbing attached to the silver snap hooks.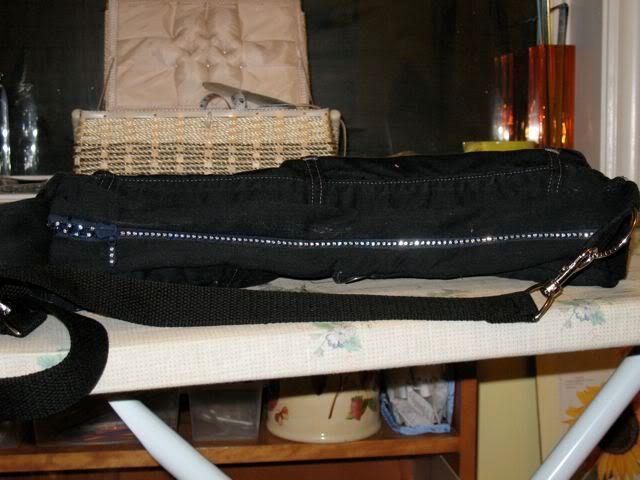 That fabric paint is still drying (note to fabric paint makers: 12 hours is an ETERNITY!!) but I didn't want to wait to post because I am just so loving this bag, it turned out exactly how I wanted it, yay! So I will take a picture of me using it and add that tomorrow hopefully.
And yes! It DOES make me want to practice more! Hope you all enjoy it as well! Should you be interested in voting for my project (hint hint) please come visit my post:
http://www.craftster.org/forum/index.php?topic=225424.0
and check out this board starting tomorrow (Feb. 6th) for instructions on how to vote! Voting runs until February 12th!
http://www.craftster.org/forum/index.php?board=380.0